Our Food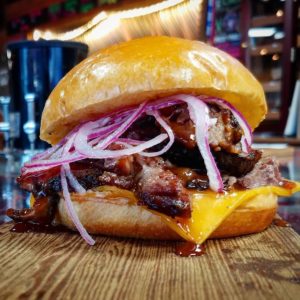 Brisket Sandwich 
low & slow smoked Braveheart Angus  brisket with pickled onions & bbq sauce on bun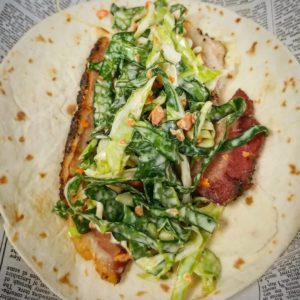 Smokehouse Tacos 
Pork Belly – sriracha coleslaw & lime
Brisket – taco sauce, crema, pickled onion +$2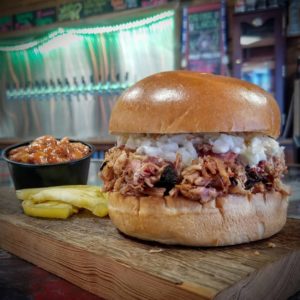 Chopped Pork 
low & slow smoked pork butt with Lexington style bbq sauce topped with house made coleslaw on toasted bun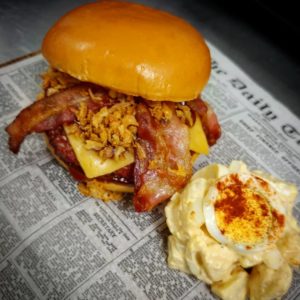 Triple B Burger 
⅓ lb smoked Tate Meatworks Triple B Burger* cheddar & LTO on bun
Smokehouse – cheddar,  bacon, bbq sauce and crispy onions +$2 
Classic – cheddar, bacon, pickle, LTO +$2
Check out our Burger Thursday for a unique and fun limited weekly burger
*smoked pork & beef blend cooked medium well will be pink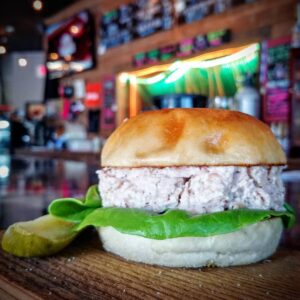 Smoked Chicken Salad 
smoked Springer Mountain chicken with house made white bbq sauce served with butter lettuce on a bun – or try it in a wrap or on lettuce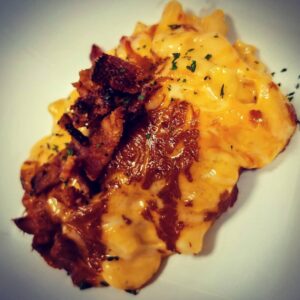 Smoked Bacon Cheese & Macaroni 
 4 cheese blend with roasted red peppers and bacon 
served topped with pork belly
add a side:
Cuban-style black beans, coleslaw, or chips – $2
*NEW* duck fat truffle fries – $3.5
*NEW* smoked bacon cheese & mac $3.5
groovy dogs & brats
make any of the following hot dogs a delicious beer brat from our friends at Full-Circle Farm +$3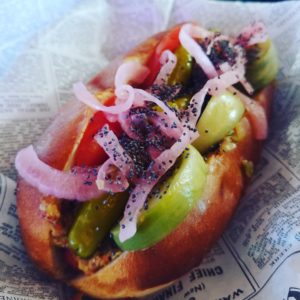 The J Dogg 
house mustard, beer cheese, bacon, 
pickle spear, red onion, tomato, and sport peppers
The New Yorker Dog 
sauerkraut and house mustard
The Chicago Dog 
tomato, pickle spear, pickle relish, red onion, sport peppers, 
& house mustard all topped with poppy seed and celery salt
groovy shareables
The Famous New Groove Pretzel 
Groovy Style, Salty, or Plain
with house mustard & New Groove beer cheese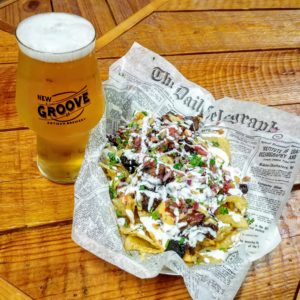 Groovy Nachos 
kettle chips topped with chopped pork, bbq sauce, 
black beans, beer cheese, crema, & pico
sub beef brisket +$2
sub fries +$2.5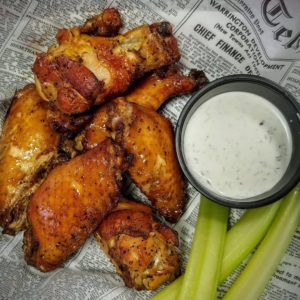 Smoked Chicken WiNGs 
5 or 8 jumbo wiNGs dry brined, smoked, & fried
choose buffalo, bbq, garlic parm, Nashville hot, or naked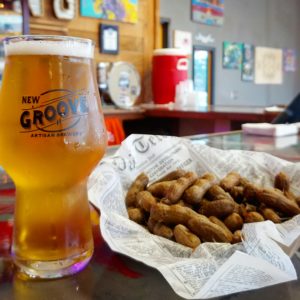 House Beer Boiled Peanuts 
seasoned with 5 spice house blend and beer and boiled to perfection
for the groovy kids
all kid's meals are served with choice of black beans, coleslaw, or chips
Kid's Cheese Quesadilla  
Cheddar cheese on flour tortilla grilled til melty. The sum really is greater than the parts. Add brisket +$2
Kid's Hot Dog 
All beef hot dog on pretzel bun. Add ketchup or mustard.
12 & under only, please
groovy all day Sunday brunch
country fried brunch burger
⅓ lb country fried smoked Triple B patty topped with bacon gravy, fried egg, and pepper bacon on a beer batter waffle bun with honey maple drizzle.
wiNGs & waffles
Buffalo 
Buffalo tossed wiNGs over beer batter waffle with chopped bacon, and blue cheese crumbles drizzled with blue cheese dip
Nashville 
Nashville hot tossed wiNGs over beer batter waffle with house ranch drizzle and bacon crumble
Honey Maple 
Honey Maple wiNGs over beer batter waffle with bacon crumble, smoked pecans, and drizzled with honey maple syrup
the groovy smokehouse
Brisket Sandwich 
low & slow smoked Braveheart Angus  brisket with pickled onions & bbq sauce on bun
Triple B Burger 
⅓ lb smoked Tate Meatworks Triple B Burger* cheddar & LTO on bun
Smokehouse – cheddar,  bacon, bbq sauce and crispy onions +$2 
Classic – cheddar, bacon, LTO +$2
*smoked pork & beef blend cooked medium well will be pink 
Smoked Chicken Salad 
smoked Springer Mountain chicken with house made white bbq sauce served with butter lettuce on a bun – or try it in a wrap or on lettuce
add a side:
cuban-style black beans, coleslaw, or chips – $2
*NEW* duck fat truffle fries – $3.5
*NEW* smoked bacon cheese & mac $3.5
groovy shareables
The Famous New Groove Pretzel
Groovy Style, Salty, or Plain
with house mustard & New Groove beer cheese
Smoked Chicken WiNGs 
5 or 8 jumbo wiNGs dry brined, smoked, & fried
choose buffalo, bbq, garlic parm, Nashville hot, or naked
Groovy Nachos 
kettle chips topped with chopped pork, bbq sauce, 
black beans, beer cheese, crema, & pico
sub beef brisket +$2
sub fries +$2.5
House Beer Boiled Peanuts 
seasoned with 5 spice house blend and beer and boiled to perfection