Masterworks Bottle Society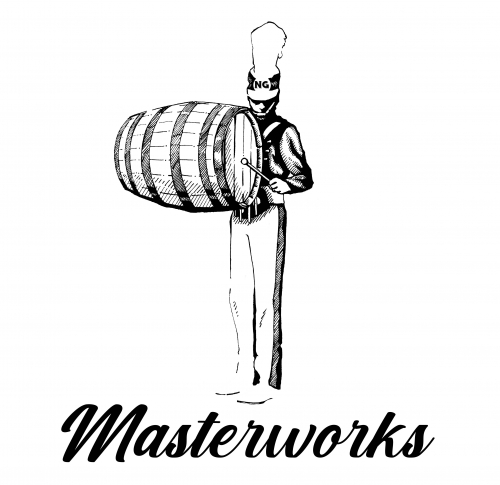 A New Groove Barrel-Aged Bottle Society
Masterworks Barrel-Aged Bottle Society from New Groove is a membership created to foster carefully crafted wood-aged strong ales. Intended for the discerning beer enthusiast who enjoys full flavored mature ales with carefully designed texture and nuance. When you join Masterworks, you will enjoy early access to all of our online releases before the general public, making it easier to acquire our most in-demand offerings. Each quarter the society will receive 2 bottles of an exclusive members-only barrel aged offering – included in your membership price. While we may offer draft of these beers to the public if volume allows, these special bottles will only be available to-go for society members. Additional yielded bottles might be offered for sale exclusively to the Society.

In addition to the exclusive bottles and early purchase opportunities, Masterworks members will receive a custom-designed t-shirt so everyone knows you're a baller, plus a beautiful exclusive glass for all your Untappd check-in picture pleasure.

Want more? We think you deserve more, so Masterworks Society members will enjoy early access to purchase tickets to our brand new winter beer festival experience. Introducing Woodstock Festival Of Wood Aged Beer, this hyper-focused mini festival will feature all wood-aged beers from New Groove, as well as a few of our favorite friends making the most exciting wood-aged beer around. Think of the Winter version of Crispi-Fest, it'll be a day you don't want to miss – mark your calendars for February 3, 2024 and get ready to purchase tickets on November 4, 2023.

PLUS… we saved this little perk for last: Masterworks Barrel-Aged Bottle Society members will enjoy early bird access to our favorite day of the year – our Black Friday Missed Your Plane stout celebration. We open to the public at noon, with typically a line at the door. Yet again this year we'll open the door at 11am for Masterworks Members only – allowing you first access to the myriad of stout variants on tap with less waiting on line. We're pretty excited about partying with you for an extra hour!
Membership Registration is currently closed for Volume 2 – but will re-open for Volume 3 Registration to the public on Friday, September 29th at 12pm Eastern. Memberships will be extremely limited after current members renew – so be ready to create an account in our online shop and prepare for Volume 3 public launch!
Volume 3 Membership will cost $225 – available for purchase at shop.newgroovebrew.com at 12pm Eastern on Friday, September 29th.
Perk Summary:
1 new release welcome bottle
4 quarterly members-only bottle releases (1 brand x 2 bottles of each per quarter)
Custom Society Glass – extras available for purchase if needed.
Exclusive Masterworks T-shirt – extras available for purchase if needed.
VIP early access to black friday Missed Your Plane event
Early access to purchase public releases, including Missed Your Plane and Hard Knock Life bottle releases
Early access to purchase Woodstock event tickets
Right of first refusal when it's time to sign up for Volume 4
Some Frequently Asked Questions:
Can I get a friend to pick up my allotment for me?
Yes, we welcome proxies. We suggest the New Groove Social Hub on Facebook as a good starting point if you need to find one.

Do you ship beer?
Unfortunately at this time South Carolina law does not permit that. See above, and find a proxy.

I live some distance from the brewery or travel for work, for how long will you hold my allotment?
We are very tight on storage space, but we understand this issue and want to make it accessible for members outside the immediate area. We will store each allotment until 2 weeks after the next allotment releases. So, if you can't come get your Q1 allotment, no problem, we'll hang on to it until 2 weeks after the Q2 allotment releases. Also remember, proxies are welcome, so you can have someone you trust pick it up for you as well.

My spouse or SO wants a member shirt or glass too, what can we do?
We will give Masterworks members an opportunity to pre-order an extra shirt or glass once membership closes. The memberships are individual, but y'all can sport matching swag! When you make your membership order, you will have the ability to add extra shirts and glasses with that membership order!

I live outside the US, how can I participate?
Unfortunately our online membership system is only available in the US. However, we DO welcome proxies, so you can make a friend in the states. Email us or join a South Carolina beer Facebook group and we can help put you in touch with someone trustworthy.