Local Brewery To Release The South's First Can-conditioned Sour Beer
FOR IMMEDIATE RELEASE
New Groove Artisan Brewery to release Groove Is In The Tart barrel-aged sour beer in a can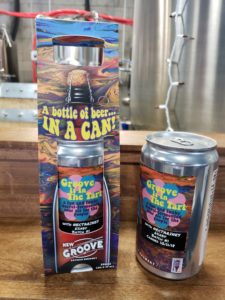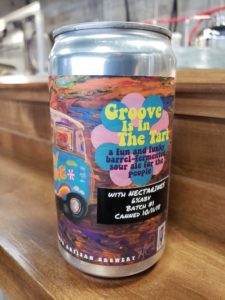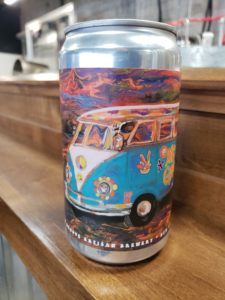 BOILING SPRINGS, SC, December 5 – Popular local brewery, New Groove Artisan Brewery, will soon release a very unique product. Groove Is In The Tart is a new series of barrel-aged sour beer aged with various local fruits that is tart, bright, funky and flavorful. Unlike other canned beer it is conditioned right in the can, meaning that the carbonation is produced naturally in the vessel itself instead of added forcefully before packaging. This natural conditioning produces a smaller bubble for a tighter, smoother carbonation and preserves the layers of flavor and complexity created by multiple yeasts and time spent in the barrel.
Mixed-fermentation sour beers (so called due to the use of multiple microbes to produce a complex flavor, often developing over multiple months) represent a fast growing sector of craft beer, but almost always purchased in a glass bottle. Metal cans that were once reserved for industrial light lager and frat parties are now taking the beer world by storm, as producers and consumers alike realize the benefits of the can as a beer distribution container. Superior impermeability to degradation caused by oxygen and light, lighter weight for shipping, and increased recyclability are key areas where metal cans shine. This trend has been slow in making its way into the sour beer world, with typically only quick-style one dimensional kettle sours being canned with regularity.
Boiling Springs own, and Spartanburg's newest local brewery, New Groove Artisan Brewery – plans to challenge that idea. Using a large-format can with the same capacity as the large 750ml bottles consumers typically buy sour beer in, they are releasing a series of mixed-fermentation sour beer fermented in used white-wine barrels, and aged on local produce. The first batch is aged on nectarines from the local Belue Farms in Boiling Springs, and the second batch is aging away on black muscadines from Cedar Knoll Farm in Belton, SC. These beers are unfiltered and naturally carbonated right in the can, just like the big expensive imported sour beer bottles. With unique packaging, exceptional beer, and an approachable price point, New Groove is hoping this new series of beer will find an appreciative audience eager for a local source of this fun and funky sour ale. Groove Is In The Tart will be available only in the taproom located at 4078 Hwy 9 in Boiling Springs, South Carolina. Cans are available to go while supplies last, and many other unique ales and lagers are available on draft 7 days a week, as well as a crafty food selection and live music every Friday and Saturday.
New Groove Artisan Brewery opened in July of 2017 on Highway 9 in Boiling Springs, South Carolina in the building that once housed the Tornado's convenience store. Founded by Jonathan Duke, Josh Dodson, and Jeff Clark, the brand combines the trio's passion for music and craft beer and prides itself on providing the community with a family-friendly and relaxing environment to enjoy hand crafted flavorful beer and non-alcoholic beverages. With 16 taps that rotate frequently, New Groove Artisan Brewery's beer centers around contemporary American styles and bold flavors.
Did you know?
Craft beer sales is growing, and now represents 12.7% of the US beer market by volume, with South Carolina ranking 29th in number of operating breweries with 61, up from 50 in 2016. Spartanburg County currently has 3 breweries, with at least 2 more in planning.

A recent Nielsen study of the fastest growing craft beer style groups found that the sour category grew 61 percent in dollar sales over the past year, more than quadrupling the growth of India Pale Ale at 11 percent. While sours still command less than 1 percent of overall craft beer sales (compared to IPA's 32.7 percent), this is an undeniable trend.
Contact: Jonathan Duke, New Groove Artisan Brewery
Phone: (864) 706-8856
Email: jduke@newgroovebrew.com
dodsonish December 6, 2018
Posted In: Uncategorized
Tags: beer, can conditioned, canned sour, craft beer, local beer, micro brew, new groove, sour beer, south carolina beer